TUSCALOOSA, Ala. — Every day of his youth, Quinnen Williams dreamed about what he did Friday. But this season, when the redshirt sophomore was being arguably the best player in all of college football, the NFL draft stayed out of his mind. Williams said it wasn't until just before a press conference alongside Jonah Williams and Josh Jacobs that he decided to turn pro.
"Definitely a tough decision with all the people who are here, all the people I'll miss. But it's the best decision," Williams said after his announcement. "I'm going to miss my teammates, I'm going to miss Coach (Nick) Saban, but I know I can call these guys any time I want to, any time of the day."
Williams doesn't know what the next few months leading up to the 2019 NFL Draft will hold for him. He said he doesn't even know where or with whom he will train for his first job interview.
That's why the projected top-10 pick leaned heavily on his head coach's experience during his decision-making process, as Nick Saban has produced 26 first-round NFL draft picks since 2008.
"I talked to my family, and I really talked to Coach Saban a lot these days over the phone because I was in Nebraska for most of it for the Outland (Trophy) thing," Williams said. "So, I talked with him over the phone a lot, every day about advice he was just giving me on the different things he was hearing, the different connects that he had. Just a lot of that because this is brand new to me. All this is so new to me, all the agents and all that stuff are brand new to me.
"I talked to Coach Saban a lot. Coach Saban's like the Godfather of early leaving, so I trust him and I trust what he told me, what he said. That made this decision easier for me."
Williams had a monster first year as a starter for the Crimson Tide, replacing first-round pick Daron Payne at defensive tackle. A unanimous All-American and winner of the Outland Trophy as the nation's best interior lineman, the Birmingham, Ala., native registered 71 tackles, 19.5 tackles for loss, 12 quarterback hurries and eight sacks in his breakout season for Alabama.
Because of his play this year, some have mentioned Williams' name in the same breath as the No. 1 overall pick in April's NFL draft. CBS Sports ranks the Tide's star defensive tackle as the No. 1 player at his position and the No. 2 overall prospect behind only Ohio State's Nick Bosa.
Williams said he appreciates his lofty projections but isn't resting on his laurels.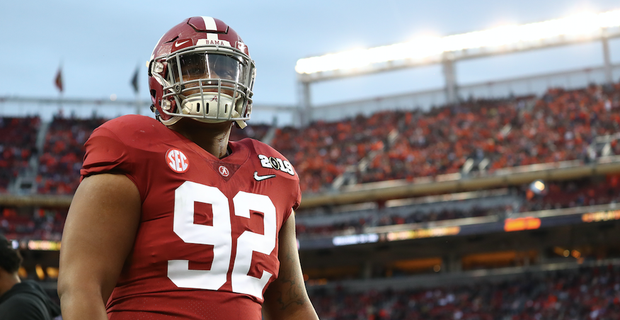 "I know I've got to work," Williams said. "I know there's some great guys like Ed Oliver and Dexter Lawrence, Christian Wilkins, a lot of guys who are amazing, who I looked up to. Just coming into this year, I looked up to Ed Oliver. Man, he's an amazing football player.
"So, it's a lot of guys who I've still got to work my butt off to compete against. I love a challenge, like just being my name put with those guys is amazing. Like I was at the Outland thing yesterday, and Ed Oliver won the Outland the year before and just to be in the same list with them, guys like Ndamukong Suh, Aaron Donald, Ed Oliver, it's just amazing to me."
Whether first or 256th overall, an NFL is getting a hard worker on and off the field, Williams said.
"Some people may see all the hard work I put in on the field, just see all the explosive plays I make, but off the field, I try to give back," Williams said. "I try to speak to other guys and just make an influence on other people's life. I'm going to work my butt off on the field.
"On the field is easy to me. Just getting bigger, stronger, faster. And my work ethic is out of the roof. Just being at Alabama helped me find my confidence in myself to be able to say that. Coach (Scott) Cochran is a tremendous help for me being able to say that, that I can outwork anybody. The things that we do here aren't normal, out the roof on the way we condition, the way we work out, the way we carry ourselves every day."
Most of all, Williams wants to show younger people from Birmingham that anything is possible.
"I dreamed of this day almost every day when I was a little kid when I was playing little league football in Birmingham," he said. "Just to see I made it become a reality — like I get a chance to enter the draft — most people don't get a chance from where I'm from. Most people have the athletic ability or the ability to do it, but can't get past different distractions and stuff.
"To see I defeated all the odds and the negativity and just everything in general, I defeated it all, it made me emotional to see that I've come from a long way, seen a lot of stuff when I was young."
Contact Charlie Potter by 247Sports' personal messaging or on Twitter (@Charlie_Potter).
*** Don't miss a VIP update with our FREE trial of BamaOnLine. Sign up HERE ***