Former Alabama defensive end Jonathan Allen was the first to reveal the potential of Quinnen Williams as a future star of the Crimson Tide and Auburn Coach Gus Malzahn was leader of the parade to point to Williams as top priority for an offense facing Bama.
A year ago at this time Williams, Alabama's 6-4, 289-pound nose tackle, had just watched the Tide defeat Clemson, 24-6, in the Sugar Bowl College Football Playoff semifinal game. He had watched from the sideline as former Tide star nose tackle Da'Ron Payne — the man in front of Williams — was the defensive star of the game. With "three or four" plays, Williams wasn't even a footnote.
What a difference a year makes.
Now Williams is the main man on one of the nation's best defensive teams, described by offensive tackle Jonah Williams as "like trying to block a 300-pound bar of soap." It often seems that the only man spending more time in an opposing backfield is the opposing quarterback.
With his fame as a first-year starter, Williams has enjoyed the attention. "It's cool," he said Tuesday just before Alabama went out to begin preparations for next Tuesday's CFP national championship game against Clemson in Santa Clara, Calif.
"I like it. It's fun.
"I think Gus Malzahn was the first one I had seen who was like, 'We've got to stop No. 92.' So that was kind of fun. It was kind of cool to see that hard work paying off like that."
Two years earlier, when Williams was sitting out a redshirt freshman season, Allen, also a unanimous All-America and winner of the Bednarik, Hendricks, Lombardi, and Nagurski trophies as the nation's best defensive lineman, cited Williams as a rising star.
"At the time it felt amazing," Williams said. "I didn't know I would be in this position now because I wasn't even playing. I wasn't even rotating, nothing like that.
"I'm very excited. This whole season I've been excited just to play because I've come from two years not playing to starting now, so every game is exciting to me. But this Clemson game is really exciting to me. I get to start in a national championship game. I really want to make an impact."
Allen did more than just give Williams a thumbs up.
Williams said, "I looked up to Jonathan Allen and tried to do everything he did and imitate everything he did, so for him to say that it really gave me a little boost, like he believed in me.
"So I had to work my butt off so I wouldn't let him down."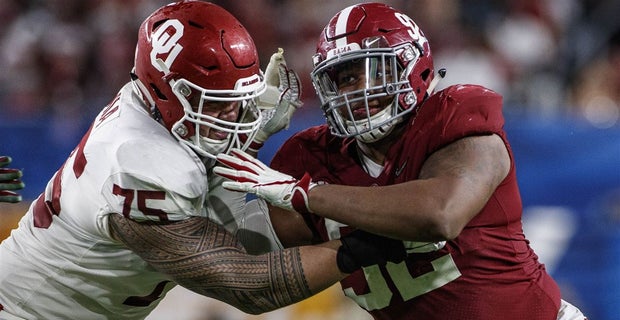 Williams hasn't let anyone down — though he regularly puts opponents on the ground.
Williams ranks third in tackles for Alabama this year with 66 total (41 primary) and leads the team in tackles for loss with 17 for 81 yards, including 7 sacks for 53 yards. He's tied with Christian Miller in quarterback pressures with 12, has a pass breakup, and had a sack for a safety against Missouri.
Suitably decorated in his first year as a starter with unanimous first team All-America status and winner of the Outland Trophy as the nation's best interior lineman (offense or defense).
Williams was asked if like Jonathan Allen he could point to the next defensive star. He needed a lot of fingers to count them off.
"You've got a lot of them I could look at as next up," Williams said. "Patrick Surtain is very good. Xavier McKinney is a huge leader on our team. LaBryan Ray, Phid Mathis, Stephon Wynn, Christian Barmore. You've got a lot of guys.
"Dylan Mosley, especially. He's going to be…he's already up, so I don't guess I can say him.
"A lot of guys on our team I can see who work hard and listen and understand the game and trying to understand the process, they are going to be next up. It's all about learning the process. Once you get that down, you get that confidence. You're going to be a beast then."
Following the Alabama-Clemson game, Williams will have a decision to make. Although he is only a sophomore in eligibility, he was redshirted as a freshman and therefore is eligible for the NFL draft having been out of high school for three years.
He said he is not thinking about that.  with the national championship game in front of him.
"I just want to dominate in this game," he said. "I want to finish this game and get another ring. Those rings look good! And I've got friends on the Clemson team like Christian Wilson — we were at the Outland thing together — so just to brag about that, how we beat y'all again.
"Things like that I look forward to.
"I'll make a decision after this game, after everything is over with. But I'm not focused on that now."