The head coaches of the four teams in the College Football Playoff assembled in Atlanta on Thursday for a joint press conference previewing the postseason's pair of top-four matchups.
The quartet was asked what is the "X-factor" for their upcoming opponent?
Alabama's Nick Saban and Oklahoma's Lincoln Riley were effusive in their praise for the No. 4 Sooners and No. 1 Crimson Tide, respectively, ahead of the Capital One Orange Bowl semifinal. Saban was polite when mentioning Oklahoma's 96th-ranked scoring defense nationally, but the 12th-year coach was genuinely impressed by Kyler Murray and Oklahoma's high-powered offense.
"I think that Oklahoma is a team that certainly knows how to win," Saban said. "They've had some great games this year, high-scoring games that their defense has come through when they need to. But I do think this is one of the most dynamic teams that I've seen for a long, long time in terms of the way they play offense. I think Lincoln does a great job with their players.
"They've got some really explosive players. The quarterback's an explosive player. They can run the ball. They have great balance. So, I don't know if there's one particular thing other than I think their players know how to win and they've won a lot of close games and they've come from behind in games. This is a team that is as explosive as any that I've ever seen, and it's designed that way. And I think it's very difficult to stop a team like that."
Oklahoma has posted a 12-1 (8-1 Big 12) record and defeated Texas, 39-27, in the Big 12 Championship Game on Saturday. The Sooners avenged its lone regular-season loss to the Longhorns.
Dec. 29 will be the sixth overall meeting between the Tide and Sooners, and Oklahoma owns a 3-1-1 series lead over UA. Most recently, the Sooners defeated the Tide in the 2014 Sugar Bowl, 45-31.
And just like Saban, Riley had nothing but good things to say about top-ranked Alabama after its come-from-behind win over then-No. 4 Georgia in the SEC Championship Game. But as much as Riley was impressed by what the Tide has done on the field, his "X-factor" was off of it.
"It's tough to narrow it down to one when you start to study Alabama," Riley said at the College Football Hall of Fame. "The thing I've seen from afar, and I don't want to act like I'm an expert on the program. I'm not in those walls day to day. But you see the unselfishness in that program. I mean, the most obvious notable example is Jalen Hurts and how he handled that entire situation.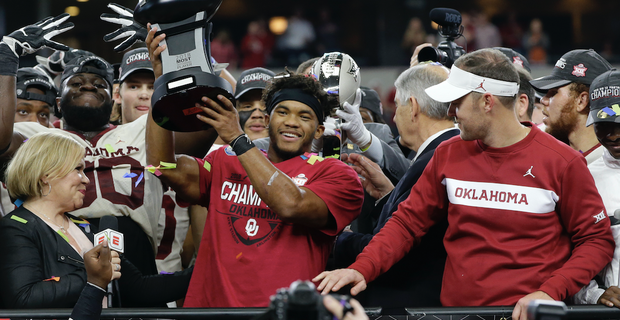 "I don't know if there's a coach in the country that doesn't look back at that and say, 'Every kid, every college football player, every young football player out other, every six-year-old that's getting ready to play the game ought to see that story because we need more guys like him.'
"So, really impressed with how their whole program managed great players at different positions. And then as a team, the obvious thing would be to say that Alabama's certainly been more explosive offensively than they've been in a while. And they've been good offensively, no question. But this group's been different, and they're certainly fantastic defensively like they've been forever. So, a great challenge.
"But I could not be more impressed with Jalen Hurts and how he handled that just from afar. I'm a big fan of that kid and how that entire situation was managed."
Days after learning their opponent, Alabama's players had some quick thoughts on Oklahoma, too.
— Junior left tackle Jonah Williams
'Just briefly. I always try to, at the very beginning of my preparation, just kind of get a feel for the personality of the defense, as I call it. Kind of the way they operate, the way they do things. So, it's a good unit. I think we're going to be game-planning for them a lot in the future, and I'll probably have more to say then. I mean, I've just watched them on film, so it's hard to tell (their size). Their D-linemen look like D-linemen, their linebackers look like linebackers."
— Redshirt sophomore defensive tackle Quinnen Williams
"The first thing I thought of was catching Kyler Murray. That's the first thing that Kyler Murray's fast, man. You can see it in games, he's fast. But their overall offense is powerful, man. They've got dynamic receivers, dynamic O-line, dynamic quarterback, dynamic quarterbacks, so it's going to be a great challenge going against those guys and just trying to close in the pocket to contain to Kyler Murray is going to be a big thing. I can't wait to play."
The Tide and Sooners will face off at Hard Rock Stadium in Miami Gardens, Fla., on Saturday, Dec. 29. Kickoff for the second of two semifinal games is set for 7 p.m. CT and will air on ESPN.
Contact Charlie Potter by 247Sports' personal messaging or on Twitter (@Charlie_Potter).
*** Don't miss a VIP update with our FREE trial of BamaOnLine. Sign up HERE ***