Prior to the start of the 2018 football season, few were the discussions of the Alabama situation that did not include the secondary being completely rebuilt.
Safety Deionte Thompson had a couple of starts in place of an injured Hootie Jones – important starts, to be sure, since they were in the College Football Playoff in Alabama's run to the 2017 national championship. Trevon Diggs had started one game, the season-opening win over Florida State, but he had been replaced by the second half by Levi Randolph.
The bottom line was that Minkah Fitzpatrick, the most outstanding defensive back in college football last year, led an exodus of six players from the 2017 secondary.
Since then there have been three other losses of defensive backs, including the latest in Trevon Diggs being pronounced likely out for the season.
In some respects, it couldn't have come at a worse time.
This week Alabama is host to Missouri for homecoming.
And just as those preseason reports on Bama often focused on the lack of experience in the secondary, the preseason outlook for Missouri was built around quarterback Drew Lock, projected by many to be the first quarterback selected in next spring's NFL draft.
"We'll do the best with what we got," said Alabama Coach Nick Saban following practice Wednesday, considerably less colorful than his description of how it was not as easy to replace missing linebackers as some might have suspected.
The Crimson Tide hosts the Missouri Tigers at 6 p.m. CDT Saturday in Bryant-Denny Stadium with ESPN televising. Alabama is 6-0, including 3-0 in Southeastern Conference games, and ranked first in the nation. Missouri is 3-2 overall and 0-2 in SEC games, but Saban said Mizzou "could very easily be 5-0."
Lock is the real deal, setting SEC passing records last year.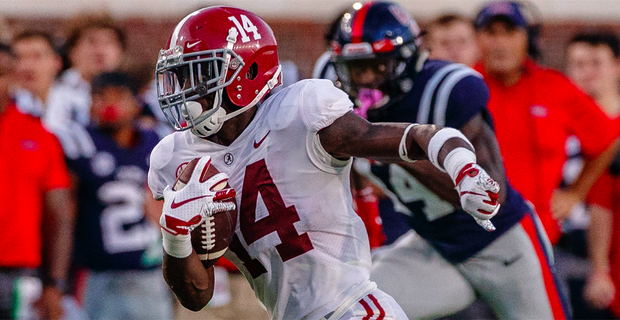 Saban said, "We only have so many guys. We have to work a lot of guys better.
"Our players are trying to do things the right way so that we can get better as a team, get some of the things that we obviously we need to work on to get better, and try to solve some of the issues that are created by missing persons out there.
"It's very challenging for us, and we're looking forward to the challenge.
"We have some guys who have an opportunity and hopefully they look at the opportunity in a positive way and do things they need to do to contribute to the team.
"I know they all want to do that and we'll do everything we can to help them."
Thompson and McKinney have been solid in starting every game at the two safety positions. With Diggs out at cornerback, Bama has two men who have started three games each, junior college transfer Saivion Smith and freshman Patrick Surtain II. (Diggs had started all six games.) Shyheim Carter is another proven defensive back with four starts this year.
(Alabama's secondary starts are not just six [games] times four [defensive backs] because the Tide defense ordinarily starts in nickel [five defensive backs] or even in dime [six DBs].)
Although Alabama has steamrolled all opponents this season, there was an obvious defensive shortcoming in last week's 65-31 win over Arkansas in Fayetteville.
"Our players have worked hard this week to try to improve," Saban said. "I'm encouraged by the effort. "We're going to have to do everything we can to affect the quarterback and not allow him to have time."
Which brings up the point Saban has made frequently:
Good pass defense is not just a function of defensive back play.
"Pass defense is everybody," Saban said.
"It's the guys rushing. It's the guys that play underneath in coverage. It's the guys that have to cover backs man to man that don't cover them man to man.
"Everybody needs to get better at what they do."
As a point, Saban responded to a question about how coverage by the linebackers might change with the loss of Diggs.
"It's not going to affect the linebackers," Saban said. "Everybody's got a job to do. We're changing personnel; we're not changing the whole system.
"Nobody has to do anything different because one person is not going to be there.
"Somebody's got to take his place, and that guy's going to have to do his job. That includes the linebackers. It includes the secondary. It includes the guys up front. It's the same way stopping the run. It's not just the defensive line. It's the linebackers fitting the plays right. It's the secondary supporting correctly.
"And we're not doing enough of those things consistently correctly to be able to play the way we'd like to play."
Saban answered his own question as to whether defensive mistakes can be remedied.
"Are we capable?" he said. "Absolutely. Most of the things we make mistakes on are fixable.
"But we've got to get them fixed."