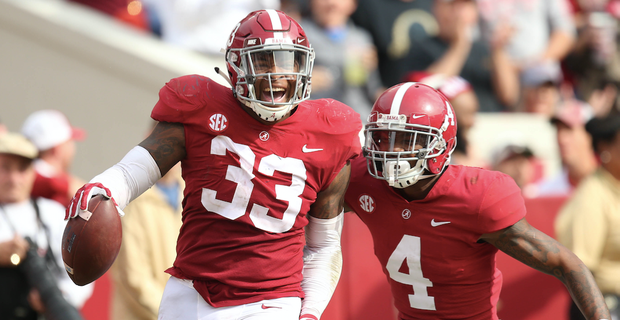 Six Alabama defenders on the clock for the Crimson Tide's matchup with No. 4 Oklahoma in the Capital One Orange Bowl.
ILB Mack Wilson
It was this time a year ago when Wilson took his game to another level, recording a total of 18 tackles, including two for loss, and an interception returned for a touchdown in College Football Playoff wins over Clemson and Georgia. After a statistically-slow start to the 2018 season, the junior came on over the second half of the campaign, posting 42 tackles, including 3.5 for loss, in the seven contests leading up to the CFP. An area where Wilson has never wavered is pass coverage, something that will come in handy against an OU offense that is averaging 324 yards per game. Wilson and fellow inside linebacker Dylan Moses won't get a break from the run game, either, as RPO-heavy OU features three players — quarterback Kyler Murray (892) and running backs Kennedy Brooks (1,021) and Trey Sermon (928) — who have rushed for 890 yards or more this season and a combined 35 touchdowns. 
Good illustration of the stress Murray puts on defenses. pic.twitter.com/RFmLMPD8OE


— Travis Reier (@travisreier) December 6, 2018
Think about the great defensive linemen who have passed through Tuscaloosa during the Nick Saban era at Alabama and then consider the unprecedented numbers Williams has posted this season: 66 total tackles, including 18 for loss, eight sacks and 11 quarterback hurries. Even more amazing is the fact that Williams has done most of that work over the last eight games, a two-month stretch of dominance unlike anything Tide fans saw from Da'Ron Payne, Jonathan Allen, A'Shawn Robinson, Marcell Dareus or any other lineman since Saban's arrival. In the Orange Bowl, Williams and Raekwon Davis will see a good bit of OU's guard combo of Ben Powers and Dru Samia, a pair of first-team All-Big 12 selections. For Williams, Davis and the rest of the front, the to-do list will start with taking away the run-pass balance that the Sooners' didn't struggle to achieve against conference competition (seven Big 12 defenses rank sub-70 in the FBS rankings). In other words, eliminating the effectiveness of Murray's backfield mates will be key.
McKinney's versatility will be on display Dec. 29. The Oklahoma offense isn't just diverse in how it goes about formations and personnel groupings — everything from two tight ends to five wides will be in play — it also mixes and matches receivers in spots were mismatches can be created. For McKinney, who works at both safety and the money position in the dime, he'll be asked to play in the box and man up in coverage on occasion. He's listed as a first-team All-Big 12 tight end, but Grant Calcaterra (25 receptions, 375 yards, six touchdowns) will line up outside as well and is a guy Murray looks to on third down and in the red zone. His presence will bring both UA safeties and linebackers into play in the passing game.
Star Shyheim Carter
Similar to McKinney in that Carter will have a lot on his plate in south Florida. Assuming the foot injury he sustained against Texas in the Big 12 Championship Game won't keep him off the field for Alabama, OU's top receiver, the ultra-dynamic Marquise Brown (75 receptions, 1,318 yards, 10 touchdown catches), will take some turns working against Carter from the slot. Thing is, Carter, who has recorded six pass breakups in his last two games, won't be able to focus solely on the passing game, as the Sooners' run game puts slot corners in the unenviable position of having to take on its counter series on occasion. For Carter, that means having to set the edge against pulling tackles from time to time. So, as much as we'll talk Murray vs. UA's pass defense in coming weeks, Alabama's defensive backs — including cornerbacks Patrick Surtain II and Saivion Smith — will need to prove physical against the run and quick passing game.
Another defender who will be viewed as more of a key piece to Alabama's quest to slowing down the Oklahoma passing attack, Jennings will be equally tasked with helping out against a run game that ranks 11th in FBS at 254 yards per game. In fact, I'd go as far to say that the need for Jennings to set edges and stone pullers in that aspect of the game might outweigh what he does as a pass rusher. The last time we saw the junior in a CFP semifinal, Jennings racked up three tackles for loss and a sack in a win over Clemson in New Orleans. The game marked one of the few last season that Jennings entered appearing to be at full health. That should be the case once again this time around — and there's also the possibility of Terrell Lewis being available.
There's a reason why Smith had a career-high 11 tackles against UGA. It was due in part to the junior being targeted by the Bulldogs' game plan, both in the passing game and on the ground. Even with the resiliency displayed by Smith in the win over Georgia, expect OU head coach Lincoln Riley and his offensive staff to go at Smith a good bit, especially with the expectation that UA will play a good bit of man coverage on the outside. Making it difficult to defend Brown is the fact that he's not afraid to freelance on his routes, something made possible by the chemistry he has with Murray and the protection the Sooners' offensive line provides for their quarterback. Defensive backs can be right in their technique against Brown and still end up being wrong.  And while Brown is elite, No. 2 receiver CeeDee Lamb (57 receptions, 1,047 yards, 10 touchdown receptions) isn't a lightweight in his own right. First and foremost, though, Smith will need to be stout against the smoke screens and other quick throws that will be coming his way early in the game.