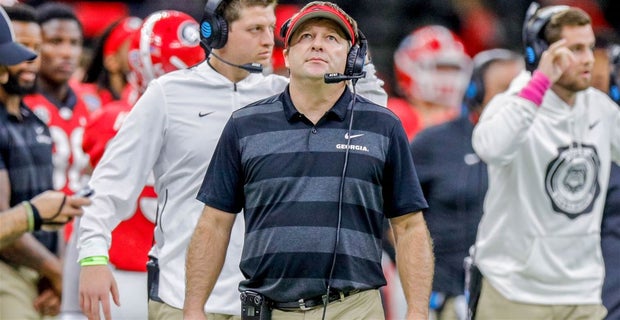 NEW ORLEANS, La. — As much as Georgia fans may feel like it right now, the Bulldogs' 28-21 loss to No. 15 Texas in the Allstate Sugar Bowl isn't the end of the world. The sun came up in The Big Easy on Wednesday and Kirby Smart's crew will lick its wounds in the coming days before winter workouts begin in the next few weeks.
A lot went wrong on Tuesday, much like it did for Alabama in the Sugar Bowl as Smart took the reigns as the defensive coordinator. The Crimson Tide took on Utah in the Sugar Bowl to end the 2008 season, one where 'Bama ran the regular-season table but missed out on the BCS National Championship game because of a loss to Florida in the SEC Championship game.
The Utes jumped out to a 21-0 lead in that contest before Alabama attempted a comeback in the third quarter. That run fell well short as Utah won the game 38-17 and as we all now know, it wasn't an indication of how things would go in the future. Alabama won the National Championship a year later.
The Crimson Tide didn't exactly have to circle the wagons to make that championship run a year later. Players got older, leaders emerged, and coaches got to know their team better. Adjustments that contributed to that success were undoubtedly made and while Smart and his staff have forgotten more football than pretty much any sportswriter will ever know, I think there are a few that UGA should make.
Scare teams on first down: Georgia took some shots against Texas on first down and they simply didn't work. Riley Ridley had a drop prior to D'Andre Swift's fumble deep inside UGA territory, Jeremiah Holloman had a pass go off his fingertips and Jake Fromm simply wasn't very good in the game overall. But there needs to be more confidence in both the run and passing game when it comes to first down.
What I mean by that is that the UGA staff can't be overly concerned with risking 2nd and 10. For the better part of this season, Georgia's offense was very good to great. Second-and-10 situations aren't a big deal for a strong offense and first-down play action is worth the risk more often than the Bulldogs are employing it. The Bulldogs went to the air just 32.7 percent of the time on third down in 2018. Those numbers are probably skewed a bit by blowouts and very few teams are even going to be close to a 50/50 split in those situations. Still, UGA completed over 66 percent of its passes and averaged 8.8 yards per attempt on first down.
We're not saying that the Bulldogs should be more pass-heavy in those situations. It's just that the numbers suggest that taking more shots when the defense isn't in pass-rush mode might have a ripple effect on the rest of the offense.
Find a role for Mark Webb: Reporters don't get to see a ton of practice but when we are out there, Smart often seems to have good things to say about the wide receiver turned defensive back. He's one of the more physically impressive players on the team and Smart has stated on multiple occasions that he's one of the Bulldog's most physical tacklers.
The buzz around Webb is that his transition from wide receiver to cornerback to STAR/nickel has come with a learning curve. There are a lot of adjustments and check that come with those positions. He has spent a little over a year in the defensive backfield and rounding out his skill set by teaching him the safety position might be a huge benefit to the secondary. Richard LeCounte III struggled as a tackler in 2018 and some of that probably has to do with his size. At 5-foot-11, 185 pounds, just about everyone he is trying to tackle on the other side of the ball is bigger than him. He was a five-star prospect coming out of Liberty High School for a reason and his future can still be very bright.
But Webb checks off all the boxes at that spot. He's big, fast, and physical. The same can be said for Otis Reese, who may be a little more limited in coverage but is the kind of hitter that can get into the head of opposing pass catchers and ball carriers.
Cut'em loose: When I look back over the past 29 games, there's a pattern when it comes to negative plays. Georgia tends to do a tremendous job of knocking teams down behind the line of scrimmage in big games when they let it all hang out, but that isn't the case outside of those games. Against Notre Dame, Auburn, Oklahoma, and Alabama in 2017, Georgia averaged well over seven tackles for a loss per game, two full stops behind the line of scrimmage more than it did in the 10 other games that season.
This season, against Alabama and Texas, Georgia averaged 6.5 tackles for a loss and that's over two tackles for a loss more than it averaged in the other 12 games. Now I'm well aware that four of Georgia's five losses over the past two seasons are included in those games where the Bulldogs did a better job of creating negative plays, but that has more to do with the level of competition in those games and it does any correlation between defeats and being more disruptive in the backfield. It can also be argued that the Bulldogs' ability to create negative plays is what gave them a shot against the Longhorns despite the disastrous start.
Georgia has the talent to make teams worry about keeping them out of the offensive backfield. Smart's scheme is built on building a wall at the line of scrimmage rather than getting upfield an allowing seams, but the two teams playing for the National Championship rank No. 2 (Clemson) and No. 12 (Alabama) nationally in creating negative plays. Making the opposing offense fear getting behind the chains has a ripple effect on the rest of its game plan.