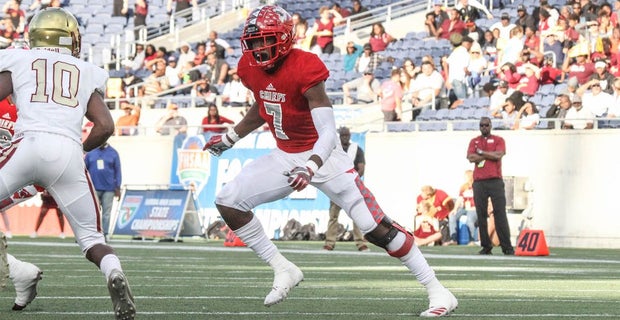 ORLANDO, Fla. — Four-star pass rusher Khris Bogle capped an impressive week by helping his Ft. Lauderdale (Fla.) Cardinal Gibbons squad to a 48-10 win over Citra (Fla.) North Marion in the FHSAA 5A State Championship game. The 6-foot-4, 215 pound Bogle recorded six tackles, one tackle for loss, and one pass breakup in the contest.
A few weeks ago, Cardinal Gibbons lost their starting quarterback Nik Scalzo to a knee injury, and Bogle suffered his own knee injury early in the season that kept him out of several games.
"Unbelievable," Bogle said of what he was feeling after the win. "It's been a long process and through all the adversity we had with Nick, and everybody, with me also, just the team, I give it all to God.
"Never thought it would happen."
Bogle had a host of college coaches in the crowd watching him Friday afternoon. Florida, Miami, Florida State, and Penn State all had coaches watching Bogle.
"They didn't have to come tonight, but they obviously did. I showed that I could play, but it was a team thing at the end of the day."
The beginning of the week also started on a high note for Bogle as well. He met with Alabama head coach Nick Saban on Tuesday in his home.
"It was great just having to sit there and talk with probably the best coach in college football," Bogle said of meeting with Saban. "It was great, had a tremendous talk. Just have to take some more visits and see where I got.
"My official was good, but he's trying to get me to go back before I commit."
Bogle will announce his college decision on January 5 at the 2019 All-American Bowl. Before that announcement, he has one more visit scheduled.
"I just got Miami and I don't know from there…I've been down there so many times. I'm just trying to see a different side of Miami."
As the recruiting process continues on for Bogle, he admits it is starting to wear on him.
"Just stressed out overall," Bogle said. "Coaches coming in and out every day, but it's the life I chose and I'm going to leave it to God. I'm praying."
The 247Sports Composite, an industry generated average, currently ranks Bogle as the nation's No. 57 overall prospect and the No. 3 weak-side defensive end.