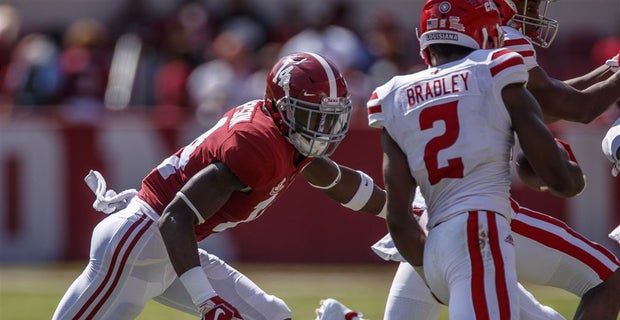 Previewing three matchups for the Alabama defense in the top-ranked Crimson Tide's matchup with No. 4 LSU Saturday at Tiger Stadium in Baton Rouge.
Alabama defensive end 49 Isaiah Buggs (6'5, 286, Sr.) and outside linebacker 33 Anfernee Jennings (6'3, 266, Jr.) vs. LSU offensive tackles 77 Saahdiq Charles (6'5, 305, So.) and 76 Austin Deculus (6'7, 321, So.).
From the UA perspective: As far as personnel groupings go, first-year LSU offensive coordinator Steve Ensminger has offered up a good bit of 11 (one back, one tight end) to opposing defenses this season. Assuming that will be the case once again on Saturday, expect the Crimson Tide defense to work largely from its nickel package, with Buggs at end and Jennings at jack linebacker on early downs.
After missing a start against Missouri on Oct. 13, Jennings was back in his normal role at Tennessee, opening the game opposite Buggs in the nickel. His lone tackle in Knoxville came on a stop of UT running back Tim Jordan for a 1-yard loss early in the fourth quarter. The TFL against #VFL was Jennings' first in four games. As noted in some previous matchup pieces, Jennings fought through some lower leg issues during the first two months of the season, so the bye week definitely came at a good time for the junior.
As for Buggs, his decision to return for his final season at UA has proven to be a money maker to this point. After establishing himself as a next-level run defender during his junior campaign, Buggs' pass rush production in 2018 has been exactly what NFL scouts wanted to see from the junior college transfer. In recording seven quarterback hurries and 1.5 sacks in 2017, Buggs frequented the neighborhood of opposing quarterbacks. With 8.5 sacks and six quarterback hurries to his credit through eight games this season, he's shown he can get home.
From the LSU perspective: As a true freshman in 2017, Charles made nine starts, lining up at left tackle, right tackle and right guard while seeing action in all 13 games. For his work, he was named to the All-SEC Freshman team. It was at left tackle where Charles made his debut in the Alabama series a year ago, as the sophomore played all 73 snaps for the Tigers in a 24-10 defeat. Between suspension and injury, Charles missed three games in September before working his way back into the lineup for the Florida game on Oct. 6.
With Charles' absence part of the storyline, the Tigers went through five different starting lineups up front in the first five games on the 2018 season. Deculus became a part of the mix in Week 3 when he got the start at right tackle against Auburn. The sophomore, who saw action on special teams in last year's meeting with UA, has started every game since.
Who gets the nod?: Again, this matchup is more about first down than passing situations. Don't let the Tigers' move to more three wide receiver sets fool you: they want to run the ball more than ever; just not as much from phone booth formations. That doesn't mean, however, that an LSU tight end won't factor into things here, because Foster Moreau most certainly will. A staple of UA's seven-game win streak over the Tigers has been its ability to produce air-tight fits against the run on a consistent basis. Strong edge sets have gone a long way in the Crimson Tide limiting LSU to an average of 97.1 rushing yards per game over that stretch. Edge to Alabama.
Alabama safeties 15 Xavier McKinney (6'1, 198, So.) and 14 Deionte Thompson (6'2, 196, Jr.) vs. LSU quarterback 9 Joe Burrow (6'4, 216, Jr.).
From the UA perspective: As good as McKinney and Thompson have been this season, the safeties on the other sideline — Grant Delpit and John Battle — this week might be viewed as the better combination. Here's guessing, though, that UA defensive coordinator Tosh Lupoi wouldn't traded McKinney and Thompson, who have combined to post 83 tackles, four interceptions and seven pass breakups, for another safety tandem in the league.
In their first full seasons as starters, both McKinney and Thompson have been consistent presences on the back end of the Alabama defense. McKinney has recorded three or more tackles in every game thus far, while Thompson has posted no fewer than four stops in each contest. Neither has been responsible for a pass breakup or interception in the last two games, but both forced fumbles in Alabama's 58-21 win over Tennessee two Saturdays ago.
From the LSU perspective: From a stats perspective, Burrow doesn't look to be an upgrade from Danny Etling.
Burrow is completing seven percent fewer of his passes and is averaging two full yards per attempt less than Etling did last year. Etling's quarterback rating last season was 153 compared to Burrow's 118.6 and Burrow has already thrown more interceptions (three) than Etling (two) did last season.
If there's a major difference between last year's LSU offense and this one it's in red zone efficiency. Improvement in that area has had as much to do with another grad transfer — kicker Cole Tracy — as it has Burrow. After scoring at a league-low 77 percent clip in the red zone a season ago, the Tigers are cashing in 92 percent of the time this season. Of their 35 red zone scores through eight games, 17 have come on field goals by Tracy, leaving LSU's touchdown rate in the red zone at an SEC-worst 47.4 percent.
Burrow has provided a boost in the run game, supplementing the production of backs Nick Brossette (697 yards, 10 touchdowns) and Clyde Edwards-Helaire with 250 yards and four touchdowns of his own. Burrow is more than willing to take hits in an effort to pick up extra yards, an approach that hasn't always worked well against UA in the past.
Who gets the nod?: To his credit, Burrow has played his best in clutch moments against top 25 opponents. At times he's been let down by an inexperienced wide receiver corps, with the latter stages of the Tigers' loss at Florida earlier in the month coming to mind. As a passer, he's more along the lines of what you would expect from a quarterback at this level. Take away his primary option and he's more likely to pull the ball the down than he is to get to his next read. In doing so, Burrow has been sacked 13 times in five SEC games. Edge to Alabama.
Alabama defensive linemen 92 Quinnen Williams (6'4, 295, rSo.) and 99 Raekwon Davis (6'7, 316, Jr.) vs. LSU offensive guards 57 Chasen Hines (6'4, 336, Fr.) and 68 Damien Lewis (6'3, 322, Jr.).
From the UA perspective: Williams' tackle for loss against UT pushed his season total to 8.5, with 4.5 of those coming in the last three games. He also racked up five quarterback hurries in those contests, moving his team-high total in that department to nine. In his first appearance in the LSU series last November, Williams recorded five total tackles, including two for loss, and a sack.
The return of Davis from a two-quarter suspension for the Tennessee game allowed Williams to focus primarily on wrecking havoc on the interior of the Vols' offensive line in the third quarter. With a quarter and change of playing time to work with in Knoxville, Davis went without a tackle for the first time in 17 games. He saw action in Alabama's win over LSU a year ago, recording nine tackles and a sack.
From the LSU perspective: As has been the case at both tackle positions, the left guard spot on the LSU offensive line this season has been home to a revolving door situation. A leg injury sustained by starter Garrett Brumfield against Louisiana Tech in late September resulted in Adrian Magee opening games against Ole Miss, Florida and Georgia at the spot. However, it was Hines who saw most of the action in the Tigers' upset of Georgia and he followed that up with a start against Mississippi State two weeks ago.
Lewis and center Lloyd Cushenberry are the only two linemen to start every game this season for the Tigers. A transfer from Northwest Mississippi Community College, Lewis wasted no time locking down a spot for a unit that lost three starters from a year ago.
Who gets the nod?: Impacting this matchup as gameday draws near will be the status of Brumfield. Early indications during LSU's bye week were that the 13-game starter from a year ago would miss his fourth straight game, but head coach Ed Orgeron said on his weekly radio show last Wednesday that Brumfield "could be ready" for the Crimson Tide. What we do know is that fresh from strong outings against the Tigers a year ago, Williams and Davis will be more than ready. Edge to Alabama.