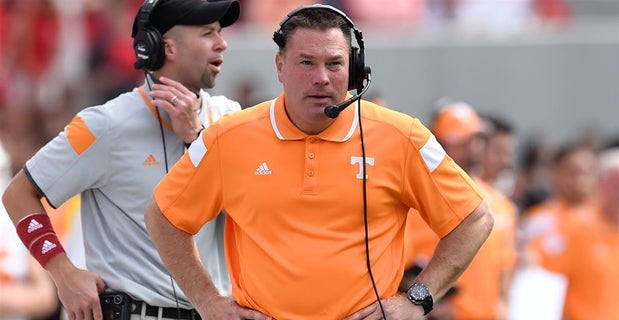 Scottie Montgomery is out as ECU's head coach, which means the search for the Pirates' next head coach is underway. Here are three names to watch who have natural ties to the position and could draw the Pirates' interest.
Age: 50
Current Employment: Alabama offensive analyst
Head Coaching Experience: Central Michigan (2007-09), Cincinnati (2010-12), Tennessee (2013-17)
Why he's a fit: Jones has coached at virtually every level of the FBS with success, and he's got a natural tie to ECU with Dave Hart – the man who hired him at Tennessee – involved with the Pirates. There's also buzz surrounding former Tennessee associate athletics director and current Southern Miss AD Jon Gilbert getting ECU's vacant AD job, which would only further help Jones' cause. Jones was fired from Tennessee after posting a record of 34-27 in five seasons, including two nine-win seasons in a row from 2015-16. During his time at Central Michigan and Cincinnati, Jones won two MAC championships and two Big East titles. He's spent the past year working under Nick Saban and the top-ranked Alabama Crimson Tide.
Age: 41
Current Employment: Oklahoma assistant head coach and tight ends
Head Coaching Experience: None
Why he's a fit: Beamer was very interested in the ECU job last time and got an interview with former AD Jeff Compher, but the Pirates ultimately went with Montgomery. Beamer's resume is interesting. He hasn't been a head coach or coordinator (outside of special teams), but has been an assistant at several prominent programs, including Mississippi State, South Carolina, Virginia Tech, Georgia and Oklahoma. He had the assistant head coaching title at Virginia Tech and Oklahoma, and he's got plenty of experience to draw back on from his father, legendary Virginia Tech coach Frank Beamer, plus he's coached under Kirby Smart and Lincoln Riley the past three years. Piecing together a staff shouldn't be a problem for Beamer, but somebody will have to take a chance on him as a head coach.
Mike Houston
Age: 47
Current Employment: James Madison head coach
Head Coaching Experience: Lenoir-Rhyne (2007-10), The Citadel (2014-15), James Madison (2016-present)
Why he's a fit: Houston has already been offered the Charlotte job and is the frontrunner there, but he's yet to formally accept. There were talks he was interested in the ECU job last year, if it ever came open. Houston is a North Carolina guy, having started his coaching career at TC Roberson High School in Asheville before working his way up the ladder in the coaching ranks. He's won everywhere he's been, compiling a 42-18 record in high school and a 79-24 mark in college. With Lenoir-Rhyne, he led the Bears to a 29-8 mark in three years, including a Division II national championship appearance in 2013. He then took The Citadel head coaching job, going 14-11 in two years, including a 9-4 record in 2015 to earn the Bulldogs' first playoff appearance and conference championship in 23 years. That led him to James Madison, where he went 14-1 and won the FCS national championship in 2016. The Dukes went 14-1 again in 2017, falling in the FCS national championship.
Houston has shown the ability to adjust his coaching style around his team's personnel at each of his three head coaching stops, while also hiring strong coaching staffs. Former ECU assistants Donnie Kirkpatrick (offensive coordinator) and Steve Shankweiler (offensive line coach) are a part of Houston's staff currently at JMU