Woah! Woah! Woah! Stop!
Yes, fans of the Central Florida Knights football team will clamor that they "Want Bama!" UCF even claimed a football national championship last year following its win over Auburn in the Peach Bowl and this year en route to possibly a second straight undefeated season in Group of Five competition.
But the outcome of the Alabama men's basketball team against Central Florida in Orlando Thursday has nothing to do with football. A win or a loss by Coach Avery Johnson's Crimson Tide has nothing to do with football, although it's reasonable to assume the Knights followers will be out in full force with any chance at Bama.
The teams meet at 6 p.m. CST Thursday with ESPNU televising the game.
Alabama, coming off a tough 78-72 win over Murray State, is 5-1, the same record of the Knights. Bama has three games away from Coleman Coliseum this year, including its one loss to Northeastern, but this will be the Tide's first true road game (the others in the Charleston Classic).
Although Alabama has a 3-1 advantage in the series, UCF was a 65-62 winner over No. 24 Bama in Tuscaloosa last December, a game in which Tide star Collin Sexton was limited with injury and did not score a field goal.
Alabama has had the same starting lineup in every game this year – point guard freshman Kira Lewis, Jr.; sophomore wings John Petty and Herbert Jones; and inside players senior Donta Hall and soph Galin Smith.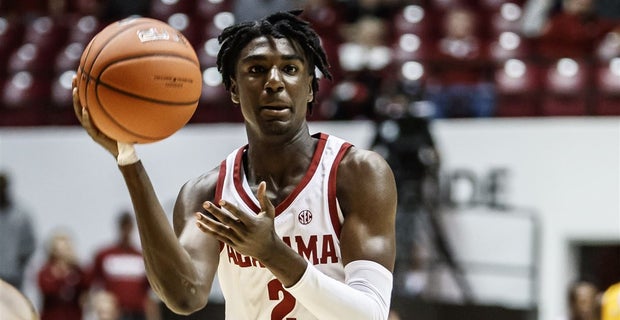 Lewis, coming off a 20-point outing against Murray State, leads Bama in scoring with a 14.3 average. Petty is at 13.8 with Jones at 9.8, junior guard Dazon Ingram at 9.0, Hall 8.0, and Smith 5.7. In addition to Ingram off the bench, Tevin Mack is averaging 8.5 ppg and Alex Reese 6.8.
Hall leads the team in rebounding at 6.5 per game with Jones adding 5.5 and Ingram 4.6. Hall is also averaging 2 blocked shots per outing.
The Knights, coached by former Duke star Johnny Dawkins, have one of the tallest men in the world (top 40 according to UCF) in 7-foot-6 center Tacko Fall. He's the tallest man in NCAA Division I basketball and taller than any player in the NBA. He leads the nation with an 81.1 percent field goal rate. (On free throws, however, he is 10-34, only 29 percent.) He averages 7.8 rebounds per game and has blocked 15 shots.
Fall is one of four Knights averaging in double figures in scoring. B.J. Taylor leads the Knights at 15.5, followed by Aubrey Dawkins at 15.2, Fall at 11.7, and Terrell Allen at 10.5.
Hall had 20 points in last year's game hitting 9-9 from the field.
"We couldn't guard Allen last year," Johnson said. He had 16 points. The Tide coach called Taylor an All-America candidate. Taylor missed 16 games, including the one at Bama, with a foot injury last year.
Alabama had 20 turnovers against UCF last year and is coming off a 21-turnover game against Murray State. "We have to take better care of the basketball," Johnson said.
The Tide coach said Bama has "the potential to be a good offensive team. The offense is ahead of the defense." Alabama is averaging 77 points per game, giving up 70.3.
Aubrey Dawkins is the son of UCF's coach. That sets up the possibility of the two head coaches' sons going against each other as Avery Johnson, Jr., is a backup guard for the Tide. Dawkins transferred from Michigan to play for his father, while Avery Jr. transferred to Bama from Texas A&M.
Johnson said that Alabama forward Riley Norris, who has not played since having a heart issue in preseason, is making progress, was dressed and available for the Murray State game, and would be available against UCF.