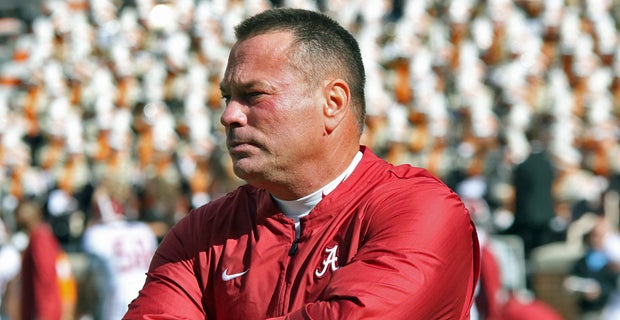 Tennessee fans remember it not-so-fondly. The Alabama Crimson Tide rolled into town, defeated the Vols in a rout, and Butch Jones celebrated by smoking a cigar in the Alabama locker room in the bowels of Neyland Stadium.
Jones was fired with two games remaining in the 2017 season, in which Tennessee would finish with a program worst record at 4-8. In the offseason, Jones was hired as an analyst by Nick Saban at Alabama. When the Tide came up to Knoxville, Jones accompanied them and was clearly fired up when Alabama beat Tennessee.
That rubbed some Tennessee fans the wrong way due to the fact that Jones wasn't exactly unjustly fired. His teams just weren't reaching their potential on the field. Well, Jones was on the sideline for Alabama's blowout loss at the hands of Clemson in the College Football Playoff National Championship on Monday night. After the game, a current Tennessee player reveled in the fact that Jones was there to witness the loss in person.
After the Tigers had officially knocked off the Crimson Tide and won the national title, Vols tight end Dominick Wood-Anderson took to Twitter to blast Jones. Wood-Anderson tweeted out a photo of Jones looking at the national championship trophy on display at the College Football Hall of Fame with a caption ripping him.
In Tears Of Laughter Seeing Butch On The Sideline Giggling The Whole Year And Thinking This Was Gonna Be His Best Night Ever As A "Coach"… Not Today Butch ?????? pic.twitter.com/PlhCpFwlIJ


— 4PocketsFull (@TheRealYungDom) January 8, 2019


Wood-Anderson never played at Tennessee under Jones, but he was on the team in 2018 to witness how thrilled Jones was to win on Rocky Top back in October. Wood-Anderson came from the JUCO ranks in the 2018 signing class under Jeremy Pruitt and had an immediate impact on the offense thanks to his size and athleticism. He didn't have to play under Jones to feel disrespected by his actions after the Alabama game.
Jones' time at Alabama will end with a loss because he will be taking a job on the Maryland coaching staff next year, as reported back in December by Jeff Ermann of Inside MD Sports. Mike Locksley, who was Alabama's offensive coordinator this season, took the head coaching job with the Terrapins and will bring Jones on as a tight ends coach and associate head coach.
Judging by Wood-Anderson's tweet and the reaction of Tennessee fans on social media on Monday night, no tears will be shed in Knoxville because Jones witnessed a bad loss in his last game as a staff member under Saban.
Jones coached at Tennessee for more than four years and compiled a 34-27 record during his time in Knoxville.