Still have a name or two on that Christmas gifts list to take care of? Fortunately, we've got one more shopping day. Unfortunately, I'm busted.
I wonder, though, if money was no object, what I would get for the man who has everything. Buying something for a gazzillionaire could be most difficult. After all, anything he wants he probably already has.
I'm thinking Nick Saban here.
Now, I'm not really considering going shopping for Alabama's football coach. Regardless of what one might think, we're really not close friends, guys who sit around and shoot the breeze. Moreover, would he really be impressed by another crimson tie? And as he told us previously, Ms. Terry takes care of the new socks at gift-giving time (though, like most rich people, he tends to wear expensive Italian loafers without socks).
Just think about what he has: a nice home – several of them, actually – and luxury car – heck, three Mercedes-Benz dealerships. We've seen the boat.
Jewelry? If he wanted to wear a ring, he's got a half dozen national championship rings scattered on his desk like so many paper clips; and more than anyone, he knows how to get more.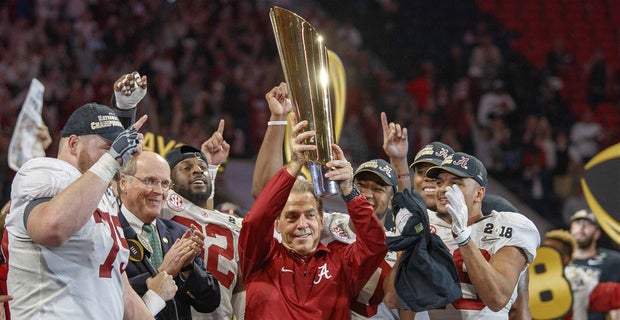 There's the old joke about what to give a man who has everything: a box to put it in.
Speaking of which, when considering what to give Nick Saban, one has to think outside the box.
Let's go to Alabama football. Now, what does he have?
For starters, the nation's best college football team, No. 1 in all polls all season long and the favorite to win another national championship when the College Football Playoff begins Saturday with No. 2 Clemson meeting No. 3 Notre Dame in the Cotton Bowl and Alabama taking on No. 4 Oklahoma in the Orange Bowl (8 p.m. EST, 7 p.m. central on ESPN).
He has already picked up what appears to be the nation's best recruiters with the coaching staff that came into his possession earlier in the year, and, thereby, wrapped up another class of excellent football prospects for him to do what he does best – develop them into outstanding men and a championship team.
What can be added?
The wish that he receive more "Coach of the Year" honors, although he's reached the point as so far and away the nation's best that the awards should be named "Coach of the Year Not Counting Nick Saban"?
More reasonable would be best wishes for his Crimson Tide team to play as well as it can, which is all he asks for.
More specifically, hope that his players, particularly his quarterbacks, stay healthy.
(It probably would be selfish to wish that he receive the gift of Jalen Hurts returning for his final Alabama football season.)
I could wish that he have more time with his granddaughter, Amélie, which obviously gives him great joy. Better yet, more grandchildren.
I even could wish that he never gets another stupid question in a press conference, but he seems to be cheered by those more than he is from the good questions.
Best, though, probably is to give him and his family the same thing that he has given all of us, which is his best wishes for this special season…and he wasn't talking about the football season.
Merry Christmas, everyone.