Alabama is now eight games into its 2018 regular-season schedule and the No. 1-ranked team in the country boasts an 8-0 (5-0 SEC) record after a 58-21 win over Tennessee on Saturday.  
Here, BamaOnLine takes an in-depth look at Alabama's rankings in several statistical categories from a national and Southeastern Conference standpoint after eight weeks of the 2018 season. 
* Statistics were acquired from CFBStats.com and Alabama Athletics. 
OFFENSE 
Scoring offense: 54.1 points per game (1st nationally, 1st in the SEC) 
— Before last game: 53.6 points per game (1st, 1st) 
Rushing offense: 216.88 yards per game (29th, 4th) 
— Before last game: 216.71 yards per game (29th, 4th) 
Passing offense: 347.4 yards per game (5th, 2nd) 
— Before last game: 350.3 yards per game (5th, 2nd) 
Total offense: 564.3 yards per game (1st, 1st) 
— Before last game: 567.0 yards per game (1st, 1st) 
Third down conversions: 56.18 percent (1st, 1st) 
— Before last game: 56.79 percent (2nd, 1st) 
Red zone conversions: 82.98 percent (79th, 9th) 
— Before last game: 82.5 percent (81st, 10th) 
DEFENSE 
Scoring defense: 15.9 points per game (12th, 4th) 
— Before last game: 15.1 points per game (7th, 3rd) 
Rushing defense: 113.38 yards per game (19th, 3rd) 
— Before last game: 125.14 yards per game (33rd, 6th) 
Passing defense: 194.5 yards per game (33rd, 5th) 
— Before last game: 189.9 yards per game (29th, 5th) 
Total defense: 307.9 yards per game (15th, 3rd) 
— Before last game: 315.0 yards per game (16th, 4th) 
Opponent third down conversions: 29.82 percent (12th, 4th) 
— Before last game: 30.69 percent (16th, 5th) 
Opponent red zone conversions: 72.73 percent (T-12th, 3rd) 
— Before last game: 70.0 percent (11th, 2nd) 
MISCELLANEOUS 
Penalties: 53.8 yards per game (54th, 4th) 
— Before last game: 56.3 yards per game (59th, 6th) 
Opponent penalties: 57.0 yards per game (T-63rd, T-7th) 
— Before last game: 56.7 yards per game (64th, 8th) 
Time of possession: 30:49.38 per game (52nd, 6th) 
— Before last game: 30:34.57 per game (59th, 8th) 
Turnover margin: +11 (6th, 2nd) 
— Before last game: +11 (T-2nd, 1st)
OTHER STATS
— After eight games, Alabama is No. 1 in the nation in scoring at 54.1 points per game and has the nation's top total offense, averaging 564.3 yards per contest. The Crimson Tide's 545 yards in total offense against Tennessee marked the eighth time UA has topped 500 yards this season and the 20th time in the last 52 games, dating back to the start of the 2015 campaign. This is Alabama's first eight-game run of 500-yard total offense performances in program history.
— Just to put what Alabama is doing on offense into perspective, the Tide's 54.1 points per game is 15 points more than second-place Georgia (39.0) in the SEC. Its 38.7 points per first half would rank 20th nationally just behind the Bulldogs and ahead of Missouri (38.6).
— UA quarterback Tua Tagovailoa is still the nation's leader in passer rating (238.85) and yards per attempt (13.6). His 25 touchdowns are tied with Oklahoma's Kyler Murray for third nationally, and he is the only player with at least 100 pass attempts to not throw an interception.
— Tagovailoa's 306 yards passing against the Volunteers is his third 300-yard passing game of the season, which matches the Alabama single-season record shared by Gary Hollingsworth (1989), Jay Barker (1994) and AJ McCarron (2013). With four touchdown passes against the Vols, Tagovailoa now has 25 in eight games this season, which ranks No. 4 on the Alabama single-season touchdown list. McCarron is the Crimson Tide's leader with 30 in 2012.
— With Tagovailoa's 77-yard pass to Jaylen Waddle in the first quarter against the Vols, Alabama has 12 pass plays of 50 yards or more this season — 10 thrown by Tagovailoa, and one each by Jalen Hurts and Mac Jones. Nine of the 12 have gone for touchdowns. That number is tops in the nation. The Tide also leads the country in 20-yard passing plays (50), 40-yard passing plays (18), 60-yard passing plays (6), 70-yard passing plays (5) and 80-yard passing play (2).

— Wide receiver Jerry Jeudy continued his hot start to the season by catching five passes for 50 yards and one touchdown against the Vols. He now leads the team in receptions (32), receiving yards (755) and receiving touchdowns (10). Jeudy's 10 receiving scores are second nationally and tops in the SEC, while his 25.06 yards per reception average leads the entire country. True freshman wideout Jaylen Waddle is now eighth nationally in the same category (21.76).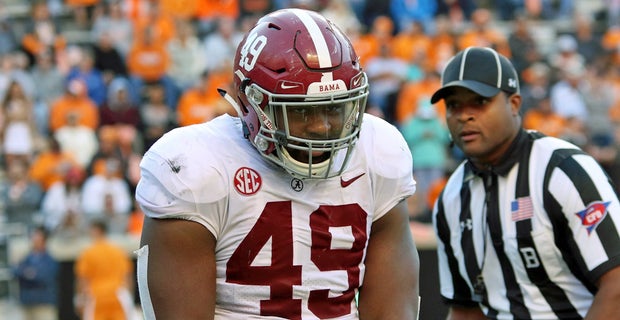 — Alabama has five receivers ranked among the top 20 in the SEC in receiving yards per game. Jeudy is second (97.1), DeVonta Smith is 10th (58.4), Waddle is tied for 11th (57.1), Henry Ruggs III is 14th (54.8) and tight end Irv Smith Jr. is 19th (48.0). All five of the Crimson Tide pass-catchers have each caught at least 21 passes for 384 yards and three touchdowns.
— Alabama's first-quarter scoring drives of eight and 11 seconds against UT were the UA's 19th and 20th scoring drives of less than a minute this year. The Tide led the nation in that category entering Saturday's game. Eleven of the 20 drives have lasted less than 30 seconds.
— UA has now scored 30 or more points in the first half of six consecutive games dating back to the Arkansas State game on Sept. 8, the longest streak in the FBS since Baylor (2012-13).
— Defensive lineman Isaiah Buggs added a sack at Tennessee and leads the SEC and is tied for third place nationally with 8.5 sacks. Alabama's 26.0 sacks are also tied for third nationally. 
— The Crimson Tide's own offensive line, which was named to the Joe Moore Award midseason honor roll last week, is tied for fifth place nationally by only giving up 5.0 sacks in eight games.
— With its post-turnover scoring drive on its second possession against Tennessee, Alabama has scored 97 points off 17 opponent giveaways this season, scoring on 15 of the turnovers. The Crimson Tide defense has directly accounted for 28 points on four interception returns, while the UA offense has posted 69 points on its 12 post-turnover possessions.
— Alabama limited Tennessee to -13 yards rushing in the first half on Saturday, the lowest total allowed by the Crimson Tide this season. UA's previous low occurred in the season's first game when the Tide limited Louisville to 11 yards in the opening two quarters on Sept 1.
— On special teams, Waddle and Josh Jacobs rank among the top five nationally in punt returns and kickoff returns. Waddle's 16.08 average as a punt returner is good for third place, while his teammate, Jacobs, is fourth with an average of 30.92 yards per kickoff return.
Contact Charlie Potter by 247Sports' personal messaging or on Twitter (@Charlie_Potter).
*** Don't miss a VIP update with our FREE trial of BamaOnLine. Sign up HERE ***